WE OFFER A COMPREHENSIVE LINE OF ACTUATORS
CUSTOM BUILT TO SUIT CUSTOMER REQUIREMENTS
AT COMPETIVE PRICES
Burr Engineering Actuators have proven their reliability and dependability in a wide range of applications that include: various types of construction equipment, agricultural equipment, adjustable seat mechanisms, air flow control equipments, satellite dish positioners and lift tables.
Three gear ratios combined with two screw types, Acme Screw and Optional Ball Screw provide great flexibility in speed and capacity.
Custom and standard electronic controls are available for use with all Actuators.
Features:
12, 24, 36 Volts DC and 110, 220 Volts AC
Stroke lengths to 60"
Die-cast aluminum powerheads
Available Digital & Analog Feed back
New Optional limit switch stops, Field adjustable
3/4-6 Acme Screw (5/8-5 Ball Screw optional)
Zinc-plated inner and outer tubes
Factory-set torque limiters
Wide range of accessories

HD & HDL SERIES, (limit switch & non-limit switch) our most popular actuator, provides:
capacities to 1,500 - 2,500 lbs.
static loads of 3000 lbs.
17:1, 25:1 & 55:1 gear ratios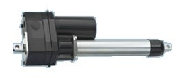 For detailed information
please click the link below